Advanced Pistol Operation (NYS Pistol permit required)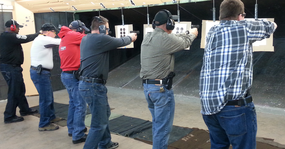 I really don't like the term "advanced" or "basic" because there really is no such thing. There are a series of fundamentals to operating any firearm. In a "basic" class you learn the most basic aspects about the firearm, safe handling, loading and unloading, using the sights and the trigger to put lead on the target. In a basic course you learn about the firearm but in advanced class you learn about yourself and how you operate the firearm.
This class not a "basic" class but no previous formal training is required. However, while it is open to all skill levels, you must be familiar with basic operation of your pistol. See our Firearms 101, or Basic Pistol courses if you need a review on this.
This is a fundamentals course and as you practice the fundamentals you will become a better operator and with that comes speed and accuracy. Our advacnced pistol operation course starts with review of the fundamentals and continues to utilizes them with exercises and drills. This course reduces wasted movement, increase consistency and efficiency to enhance your own skill level and that will bring speed and efficiency. This course focuses on real world pistol skills, and although many of the skills will aid in competition, it will not be focused on competition shooting. We will review grip, draw, magazine changes, stance, sight alignment, sight picture, trigger control, and follow though and working malfunctions. We will continue with drills to help find your peed and accuracy balance. A person's skill level simply relates to how well they can transition from fundamental to fundamental to produce the desired result in the conditions they find themselves. No matter your current skill level, this course will help you to progress and make your personal practice more effective.
You will need:
Your pistol, 3-4 magazines
OWB Holster and Magazine Carrier

200 rounds of ammo
Ear and Eye protection
Hydration, Lunch. We will have a working lunch but will be ordering pizza.

Ammo and all equipment is available to rent a head of time.
Class schedule is based on 6-10 students registered.
Cost of this class is $195.

Location: Buffalo Revolver and Rifle Club 100 Town Road West Seneca NY 14224
Next Class: TBD 4th Saturday 9a-3p
---
| | |
| --- | --- |
| | John, will be the instructor for this class. John is a certified NRA instructor and he is also a retired Sgt 1st class US Army and served as an Special Forces advanced weapons instructor, also serving as Commander's In-Extremis Force Team Member, Assault Team Leader, SF Communications Adviser, and Operations Sergeant. Also has competed in various firearms competitions around the country IPSC & USPSA. |