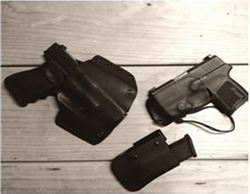 Braun Concealment Systems
Custom made holsters, mag carriers, trigger guards, knife sheaths
BUY LOCAL!

Full listing of products, styles, colors below.
Everything is made to order just for you. Give us some basic info about you and what you need and we will contact you go over the details and take payment for your custom order!

---