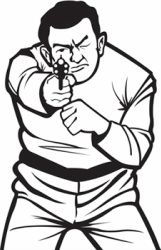 Concealed Carry Skills
This is a hands-on class intended for those who already have their pistol permit or are applying for their concealed carry and want to advance their practical concealed carry skills and knowledge or for those looking to better protect themselves regardless of self your defensive tools.
This course is the first step in training yourself for a dangerous encounter. Many people focus on the tools, the gun the ammo, caliber which doesn't matter without proper mindset and skills.
This course through a combination of lecture, discussion and force-on-force scenarios is designed to give you a better mindset, awareness, decision making abilities and understand the reality of self defense. It deals with the escalation of justified use of force that can be used to defend ones self from an attack. What is needed to avoid confrontation, deescalate, realize the consequence of inaction, and if needed, use your skills and training to deploy your firearm or other tools. The class will continue with scenarios tests, fundamental decision making, core skill sets and your ability to deal with possible real life situations. Your tools are useless without being able to act fast and smart. Skills come from reality based training not just range training.
It's strongly suggested that you attend the concealed carry course with a spouse, partner or other family member since they will likely be the only "help" you will have until authorities can respond and you want to be on the same page. You may carry a firearm but do your family members know how to access your firearm and operate it if you get injured? We also discuss emergency medical treatment for your self and others. This course will help you create or improve you concealed carry and decision making skills and help you progress by making your personal practice more effective. As a next step in training see our
Defensive Pistol
class which is a live fire class that deals with using a pistol in a defensive situation after you have made the decision to draw.
Must be a US citizen. 21yrs+ old.
Your will need:
Firearm not required
Note Taking Materials & Hydration.
Safety Glasses, SIRT and training pistols are provided.
This is not a live fire course
,
firearms are not needed and NO ammunition is permitted at the class
.
Cost of this Class is $60. Next Step: Defensive Pistol
---
** We do not share personal information. Your information is needed to communicate with you about our services, products, promotions and for our records. Neither your name or any information will be sold or shared with any other company or agency unless directed by the state or courts.
"My Wife and I took the Concealed Carry Skills Class and found it very informative. We will recommend this class to everyone who carries a firearm. I have some professional training, my wife and I are prior military, we regularly train at home, and came away with additional tools and a new perspective on concealed carry. This class immerses you in hands on real life situation, teaches you what kind of actions an attacker might take, and teaches you an alternative to drawing your firearm. You will learn about the laws pertaining to use of deadly physical force, and how they also pertain to protecting yourself at home. My wife and I enjoyed the pace, low pressure yet effective approach of the instructors, and content of the class. All these factors helped us decided to stayed for the low light operation class. That is another highly recommended class." -Peter and Bryn

"There is so much ambiguity in personal protection situations. Many criminals want to you occupied and when you are in the space of others you have to be prepared." Tim S

"Overall one of the best things about their classes is that you are put into real life scenarios! They provide you with all the equipment you need, SIRT pistol, flashlight, tactical training knife, and a realistic training environment to train in. I highly recommend that you take as many of their classes as you can. I train to keep myself and my family safe, what's your motivation to train?" - Ryan

"I really liked the class, it was very informative in terms of better understanding of the legalities of the law and how to handle yourself. The tips on being aware and going with your gut were great. I wish some other women were in the class just because that changes the dynamics on how a scene would work with two women. But that is not on your company that is on other females not taking the steps to gain more knowledge. Ladies take this class! I want to make sure I am comfortable with my gun if I am going to carry it." - Paulette

"Educational but funny to which is good for any class. I had no hands on training so this was great for me. You guys did great job." - Jason S


"Being so inexperience I was a bit apprehensive going into the class. I was instantly put at ease when i saw the diversity within. Genders, ages and beards (lol) of all walks! The way the class was taught never made me feel intimidated or talked down to. The information was shared in a lighthearted fun manner that made it easy to process and remember. The true result of being passionate and extremely knowledgeable about your business and wanting to share it with others. I was skeptical that running a few scenarios in a planned environment would be as helpful as it was. When i got home and my husband jumped out from behind a door i instantly jumped into my ready stance instead of ducking for cover. I shared many of the defensive moves with my teenagers and i was dubbed "cool step mom" instead of "evil step momster" for the day, so thanks for that! Looking forward to more! " Joelle

"Good job Saturday with your Concealed Carry class. You guys does a great job delivering the information and makes the class comfortable and very personable. You do not have that lecture hall feeling but more of a good personal conversation. The hands on approach to the different scenarios also makes you think about the real life situations you may be confronted with.
Class location was very good because it was removed from outside interference's. Class materials were fine and class cost very reasonable. I would recommend this class to anyone that wants to learn more about concealed carry and be more prepared for reality."
- Gary D


Customer Feedback:

"My headline for this class would read-

'I don't care who you are or who think you are , You need to take this class at least once".

Location was great given that it allowed for real like scenarios Format was very good, time spent was broken up nicely. Cost is irrelevant as long as I receive value which I did!

Pace was right on, content was what it should be.

Steve's mix of real life stories and his injection of humor were worth the cost alone. I likely will take one or both classes again in the future! " Gary R

"This is the first and only class I have taken since I had my pistol. This has made me realized it's not about the firearm but the attacker." - Jason

"Training is what I am going to fall back on it a bad situation. This is going to help me take away all the macho stuff and de-escalte and protect my self. I didn't think I could do it. - Felix

"I really enjoyed the concealed carry class with you. You are incredibly knowledgeable and do an excellent job presenting a facts-based course that does not feel like it is designed to give an opinion, but to allow the participants to develop their opinions. I thought it was incredibly useful that our class was able to go outside and simulate different types of situations. The scenarios that you simulated during class really make a person step back and think about how they would really react in a real life situation, especially in today's world. Thank you again for a great class & I look forward to taking another class with you!" - Amy A

"This gave me a little stress and made me realize I need to prepare my family too." - Greg

Found the class to be informative and eye-opening. I was a little disappointed with my defensive tactics during a couple of the drills, but that's what I was there for - to gain some insight on how to react to certain levels of confrontation. The active shooter drill, albeit staged in a class setting, left me pondering how/what I should/could/would have done differently to thwart the shooter? It did point out that, short of being overly paranoid, one needs to be more aware of your surroundings during your daily routine and have a certain skill level to overcome the bad guy. My thanks to you and Steve for providing the training that, if/when the time comes, may save my life and those around me" - John

"I have to say the class was extremely useful and informative. Role play really made you think how to address certain situations. Especially a few days later you can review the role play and see if you could have made s different decision. This course should be mandatory for your carry permit" - Walter

"I was very pleased with the instruction I received in the concealed carry course. I thought the instructor did an excellent job breaking down the escalation of force and the law as it pertains to self defense. It was nice to build on fundamentals and mindset in this class. Thank you for your time and I look forward to Defensive Pistol in August." - Jason

"It's a lot to take in, but I think I am going to come back and take it again. To see the scenarios unfold is invaluable. You can't be prepared enough for the panic that happens" - Debi F

"You answered a ton of the questions I had when I came in today." - Phillip P

"I really had not clue what I need to do in a real situation before this class." Louise

"Thanks for offering this course. I heard a lot about it and its better than I expected. This class is really practical, easy to understand, and useful." -

Travis

"Different from any other classes I have taken. I the situations and the different points of view from everyone else" Joe P

"This class makes me realize how I need more training. Its lot different to talk about it than to do it. I need to feel more comfortable with myself in these situations."
Carol

"This training was really informational. Tons of things I wouldn't even have thought of. I really enjoyed this class, it encompassed a lot. I supervised myself how little I hesitated, but I have to practice way more." - Judy

"Just took the Concealed Carry Skills class today. This class is so informative that highly recommend it for any one who plans on getting or has their CC permit. The class was a fun, informative and we were able to implement lecture right into being practical and tactical. Thanks guys!" Blake

"The class was great you guys are very good at what you do. For me, an average person, this is a great class to take without being intimidated. The cost is fair the place was great. Looking forward to the defensive pistol class. " Patrick F

"This class should be required" Josh