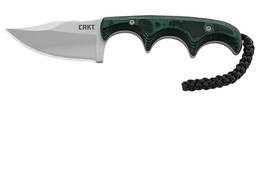 Defensive Knife & Tactical Edged Weapons
This class is for those who carry a knife as a defensive tool, of if you are considering carrying a knife, or looking to defend against an aggressor with a knife.
Covered will be a Justifiable Use of Force Overview and Understanding Criminal Assault, using a and selecting a Knife for Personal Protection. We will cover practical physical defense skills, carry, presentation, in-fight access, conventional and unconventional grips, anatomical targeting priorities, edge and point driven methodologies, countering close range assaults, grabs, and chokes. You must be a US citizen, 21 years old.
Your will need:
Training Knives provided, you many bring yours as well but not needed.
Eye protection, we do have some.
All other materials are provided.
Cost is $40 (Free for teachers & staff with ID)
---
Student Feedback:
"My headline for this class would read-'I don't care who you are or who think you are , You need to take this class at least once". Location was great given that it allowed for real like scenarios Format was very good, time spent was broken up nicely. Cost is irrelevant as long as I receive value which I did!
Pace was right on, content was what it should be.
Steve's mix of real life stories and his injection of humor were worth the cost alone. I likely will take one or both classes again in the future! " Gary R

"I was a blank canvas and was there to get exposure to a form of self defense that I knew nothing about. Steve and Jeremy changed all that. First, the location/cost were great. This class was a great introduction to point driven methodology. The legal stuff was good. I have had a hard time finding out how long a blade could be in NY and still be legal to carry. I really enjoyed dancing with Jeremy and yes my bruises are healing nicely...lol" Paul R



Student Feedback:
"I really enjoyed this class. Amazing the differences in knives and how they work or don't work" Don G

"I am going to change my knife. Look forward to more classes like this" Josh O

"I want to take this class every year to stay sharp. I was in the military but this helps me feel less at know I can protect my self" EJ

"Very realistic drills" Rich M

"I will always carry a Pen now, as I work in a non-permissible carry environment" Louise

"Really puts things in perspective" Joe D

"This is a very helpful course for me. I am not a big fan of knives. I will protect my self and my family but now I know now the simple truth that the knife now has a place in my defensive arsenal knowing how to better use it. The information in this class has been very beneficial" Travis R

"After taking this class I have decided that my new EDC (every day carry ) knife is going to be a small fixed blade for self-defense. When someone is charging full speed with a knife of their own all that fancy stuff you see on YouTube goes right out the window. Your hands instinctively go up to protect your-self and I learned in this class how to turn that reaction into part of my defense. I also learned first-hand it does not matter if you are biggest or strongest guy in the room, it's all about body-mechanics and using them to your advantage. If you are forced to be in a knife fight you want to get in quick and get out even quicker! I think some people including myself had been walking around with a knife in my pocket that gave what I know now is a false sense of security. Having a corrections officer teach a knife class is great, who better to teach you knife defense than a guy that has to worry about getting stabbed with all types of sharp object each day he goes to work. I trust the teaching of a guy that lives this stuff everyday over someone who just teaches basic knife defense." Ryan - Buffalo