SIGN UP FOR THIS FIREARMS TRAINING COURSE: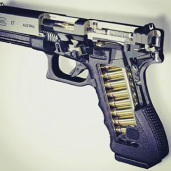 Firearms 101 is a perfect firearms training course for beginners, for guidance for someone selecting their first firearm, or after our basic safety class. This class is as an in-depth look at the rifle, pistol and shotgun their operation, basic principles, and capabilities of each, with a greater focus on each firearm depending on the class.

Course covers ammunition types, their use, caliber and naming. Also covered firearm types, actions, operation, shooting positions, grip and control; proper handling, safety gear, range etiquette, storage and cleaning as well as ownership and purchasing laws. This course covers everything you need right up to firing your first shot. Range time with an instructor is allowed after this course is completed.

Class is all ages, 3+ hours. $60

AR-15 Class, review of history of the AR platform, function, parts, operation, and use. A review of the NY Safe Act as it applies to this rifle, and NY legal configurations, assembling a upper a lower. A really good class to take prior to building or buying a AR rifle in NY.

---
"Thank you for making the Handgun 101 class so accessible to someone just beginning to explore a new sport of pistol/shooting. As a woman pursuing a traditionally male-dominated sport, I can appreciate how comfortable with the technical knowledge, background & safety Jeremy has made me through this class. I would highly recommend this class to anyone applying for a pistol permit, and will continue my education with self-defense & concealed carry classes." - Rachel