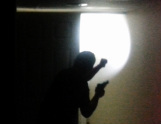 This course takes your personal protection and firearm skills and applies them in a low/no light environment. The majority of criminal activity perpetrated upon citizens takes place between 6pm and 6am(WHEN ITS DARK). This course provides you with the most up to date concepts and strategies for effectively controlling your environment, your attackers or home invader with light.

If you have never fired your personal defense firearm in low/no light conditions this is the course for you. In this course you will learn unique differences and characteristics needed to select the proper lighting tool. How to properly u
se a light to navigate detect and ID a target. Discusses and drilled will be various methods of manipulating and operating a pistol, shotgun, or carbine with a light. Advantages and disadvantages or weapon mounted lights. Practical drills in a low/no light environment and class concludes with a test of skills learned.
.
This is not a live fire course.
You will need:
Your Personal Protection flashlight.
Firearm not needed, Absolutely NO ammunition is allowed in class.
Training firearms will be provided.
We do have lights ideal for use and available to purchase
Cost of the class is $40
---
Customer Feedback:

"IF you carry a gun, you better carry a flashlight! If you work in an environment where concealed weapons are not permitted, you need to take this class. I learned how a flashlight can be one of your most useful defense tools to aid in your situational awareness. I learned first-hand how to clear a room identify a threat and find the victim." Ryan - Buffalo

Just wanted to let you know the low light class I took last Sunday was awesome. Learned a lot and very informative. Definitely recommend it to anyone who is thinking about taking the class.
Thanks - Kevin.

"The building was perfect, lots of room to move around and learn the skills and then the dark basement to practice what was taught. This course showed me simple, common sense techniques to use a hand light along with a firearm in a safe and effective way. While I may have had an idea of what to do before this class, this just made sense. The repetitive drills and video material are put together in a way that makes it interesting and I think helped me retain what I learned. For me, this was another step to progressing my firearms training and to being a safe, responsible gun owner." - Kurt