Pistol Operation (Beginners class, NYS Pistol permit required)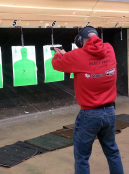 First time pistol shooters class. Looking to start out safe or to try or shoot a pistol for the first time? This is a beginners live fire class where you practice basic aspects about the firearm, safe handling, loading and unloading, using the sights and the trigger to put lead on the target. From here you build good form and can continue good practice.
In the permit course or a firearms 101 course you learn about the firearm it self but in operation class you will learn about yourself and how you operate the firearm. As you practice the fundamentals of handgun use you will become a better shooter and with that comes speed and accuracy. This is the class to get you started. Don't have a pistol yet, see or
Firearms 101
for help selecting or you can rent one from us for this class.
You will need:
Your pistol, 2+ magazines

100 - rounds of ammo
Ear and Eye protection
Hydration
Cost of this class is $120.
---
Student Feedback:"I am new to shooting and I have recently taken the Pistol Operation class. The instructors were knowledgeable, engaging and even entertaining. The Operation class gave me an excellent foundation, and I left with the comfort level to shoot independently on a range and to take more advanced classes. As a novice shooter I found the environment welcoming and not at all intimidating. In class safety was a focal point and never compromised. Now I am looking forward to taking more advanced classes!" -Joe D


"I took the pistol operation class and it was an excellent learning experience. The small class size made for a very personal experience. You were able to take your time with each of us and ensure we had a complete grasp of each technique before moving on. The venue was perfect and I hope to one day become a member there and put what I learned from you to good use. Your teaching technique was down to earth and easily understandable. I would and already have recommended Iron Sight to others to enhance their skill base. hope to see you soon for more training." - Kurt U