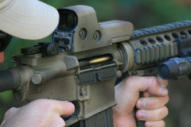 This is not a beginner course, you must be familiar with your carbine but no previous training is required. This course intended to provide a starting base for carbine users to utilize through continued practice and training. This course will also provide fundamentals in using a carbine in close defensive situations. This is focused on real world use range or defensive and although many of the skills will aid in competition, it will not be focused on competition. This a range course with basic safety, review of AR platform history, design, nomenclature, features, controls, field disassembly, function checks. We quickly more in to loading, administrative loading and reloading, basic operation and manipulation, malfunctions, shooting platforms, movement, use from cover and concealment in a defensive situation and several drills to
reinforce and test you along the way.
You will need:
AR platform rifle, or other carbine & 3-4 magazines
About 300+ rounds.

Ear and Eye Protection
Bring appropriate clothing, we will be outside. We recommend a brimmed hat. Magazine carriers will be use if you have them but not necessary.
Hydration, snacks, we will take breaks but no long enough to leave.
This is not a testing ground for cheap equipment. Please make sure your carbine, optics and kit are all tested operational and fit for use.
Cost of This class is $180.
---
Customer Feedback:

'There is a few thing I never though about that I have to consider now. Before this I just went to the range and I would shoot, straight, sanding up over and over again. This adds a whole other level which I know I needed because life doesn't come at you straight and standing up." - Devan


Great class all around. You set us up with the fundamentals to practice. The feedback on my form was exactly what I was looking for - Andy
"I really valued how you scaffolded the instruction and put us under stress." Josh





Steve will be in instructor for this class. He has a B.A. Criminal Justice, SUNY Brockport, NYS Correction officer 20+ years, Chief firearms instructor, CPR/First aid instructor ESCI rated, Glock armorer, M4/ar-15 armorer, NRA instructor since 1999, USCCA instructor 2011, Graduate of Front sight, Thunder Ranch, Blackwater academy, Haley strategic, Tactical Response, MDTS, Alias security services (Tmac) and HIDTA (strategic gang operations) and Cross trains with NYS Parole, NYS court Officers, Homeland security, NYS inspector general's office. MPTC/DCJS certificates from department of corrections.