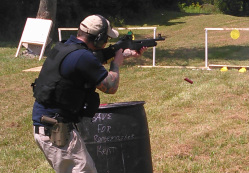 This class will provide you with the skills needed to use a shotgun safely and effectively as a defensive tool in your home.
This is not a beginner course, you must be familiar and have fired your shotgun but no previous training is required. This is a course intended to provide a base for shotgun shooters to utilize through continued practice and training. This course will provide fundamentals in using a shotgun in close, defensive situations. This is focused on real world scenarios, and although many of the skills will aid in competition, it will not be focused on competition shooting. This a combination of lecture, exercises and drills. On the range course with basic safety, review of justified use of force and the mindset of a intruder. We will focus on shotgun operation and manipulation, ammunition choices and capabilities and penetration. Stance, form, loading, unloading, malfunctions and reloading. Also shooting positions, movement, and cover and concealment in a defensive situation.
You will need:
Your defensive shotgun.
150+ rounds of ammo 25-Slug 25-Buck 100+ Bird

Weather appropriate clothing as we are outside.
Ear & Eye Protection.
Hydration and Snacks if needed. We will have quick breaks in class but there will not be time to leave.
Cost of This class is $180
---
Steve will be in instructor for this class. He has a B.A. Criminal Justice, SUNY Brockport, NYS Correction officer 20+ years, Chief firearms instructor, CPR/First aid instructor ESCI rated, Glock armorer, M4/ar-15 armorer, NRA instructor since 1999, USCCA instructor 2011, Graduate of Front sight, Thunder Ranch, Blackwater academy, Haley strategic, Tactical Response, MDTS, Alias security services (Tmac) and HIDTA (strategic gang operations) and Cross trains with NYS Parole, NYS court Officers, Homeland security, NYS inspector general's office. MPTC/DCJS certificates from department of corrections.


Customer Feedback:"Great instructor, well credentialed and lots of firearms training experience. I got some great range time, learned some fun drills and saw that you really do need to train, train, train with your tools. Got some critical thinking in about my home defense setup. I recommend IronSight without reservation and will likely be taking more of their classes, including their carbine class". Andy - Buffalo

Full student review on NYFirearms.com : http://nyfirearms.com/forums/training/81249-class-review-defensive-shotgun-ironsight-llc.html


"I took the course and you'll learn not only what optimal load but what load is best for where you live, different distances, range time, stress drills, defensive positions and mind set....ect. Hope this helps but I recommend this course" Blake - Niagara Falls