Revolver Skills (NYS Pistol permit required)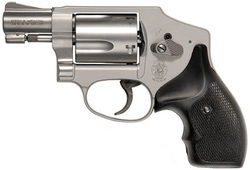 This class is a live fire class that deals with the use of a revolver in a defensive situation. This is a skills class is based on the actions after you have decided to use a pistol in defensive situation. This course is a continuation of our
Concealed Carry Skills
class which is a decision making course. It is not required to take the Concealed Carry course first but it is recommended as the skills class deals with the escalation of force that can be used to defend yourself, how to avoid confrontation, deescalate, and making the decision to deploy your firearm which is where the defensive pistol course continues at on the range.
There are a series of fundamentals to operating any firearm. This class we will go over the basic aspects about the revolver. We are also going to over defensive use and out these fundamentals under stress. We start with a safety review, use of force and equipment check. We will review and drill the fundamentals or revolver use, grip, draw, actions, loading and unloading, speed loaders and strips, stance, sight alignment, sight picture, trigger control, and follow though and working thought malfunctions. This course focuses on real life situations using a revolver as a primary or back up tool. If you are deciding on a revolver as a primary or back up gun we have several to try or rent for the class if needed.
Must be a US Citizen 21yrs+ old.
You will need:
NYS Pistol Permit
Your revolver

Holster ( not necessary but would be used)
100+ rounds of ammo
Ear and Eye protection
Pocket/Carry flashlight
Hydration.
You will received specific instructions, rules, and details once registered.
Cost of this class is $125.
---
** We do not share personal information. Your information is needed to communicate with you about our services, products, promotions and for our records. Neither your name or any information will be sold or shared with any other company or agency unless directed by the state or courts.